Dumbo, from Disney, Directed by Tim Burton, with Danny DeVito, Colin Farrell, Michael Keaton and Eva Green. What an amazing opportunity and a Live experience.
Dumbo, produzido por Disney, Realizado por Tim Burton, Com Danny DeVito, Colin Farrell, Michael Keaton and Eva Green. Espectacular Oportunidade e uma Experiência Fantástica para a vida.
This was for Viktor Frankenstein Movie with Daniel Radcliffe and James McAvoy, me and my Fellow's from Mattress Circus and other friend Tom Gaskin, crazy adventure in London Town
Isto foi para o Filme Viktor Frankenstein, com o Daniel Radcliffe e o James McAvoy, eu e os meus amiguinhos do Mattress Circus e também outro amigo, o Tom Gaskin. Aventuras Alucinantes na cidade Londrina
Sky Arts Production, Ruby Robinson with the Sexy Kim Catrall, directed by Paul McGuigan (who direct Lucky Number Slevin). Another cool opportunity to work with some of your mates, Tiago Fonseca e Alcina Padinha, also other friends Silvia Fratelli and Tom Gaskin. Super nice project, come out stunning if you can watch it you want regret, this was one out of 4 short movies that Sky Arts produce, in 2015
Uma Produção Sky Arts, Ruby Robinson com a sensual Kim Catrall, e tendo como director Paul McGuigan (o director do filme, Lucky Number Slevin). Outra oportunidade brutal de trabalhar com os teus parceiros da vida, Tiago Fonseca e Alcina Padinha, como também outros amigos, a Silvia Fratelli e o Tom Gaskin. Estupendo projecto, saiu altamente, se puderem vejam, porque não se vão arrepender. Esta foi uma de 4 curtas-metragens que a Sky Arts produziu, em 2015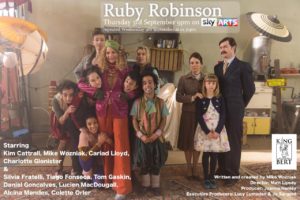 Film Publicity for Liam Gallagher "Oasis" new clothes brand, Happen in London
Filmagem de uma Publicidade para a nova marca de roupa Liam Gallagher. Aconteceu em Londres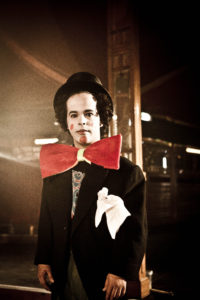 This was probably my first Professional Gig With Titanic Theatre from Germany with collaboration of Festival Imaginarius in Santa Maria da Feira in Portugal, When I play king in the World of Pinóquio
Esta foi provavelmente a minha primeira actuação profissional com os Titanic Theatre da Alemanha e com colaboração do Festival Imaginarius em Santa Maria da Feira, em Portugal, em que o papel de Rei no Mundo de Pinóquio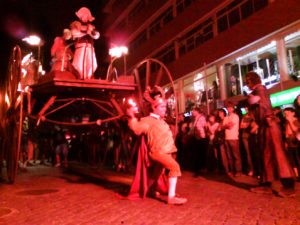 This creation is called the Hangman Rehearsal Shoot? This creation comes out from a friendly reunion, to remember the times we study together in Chapitô, Lisbon Circus School. Daniel Gonçalves, João Lourenço and Telma Fernandes in 2013, on a summer night we work in to early morning and we create this mini production, I hope you like it as much as we did it.
Esta criação foi Chamada o Ensaio Filmado Hangman? Esta criação surge de um encontro entre amigos, como um relembrar do tempo em que estudávamos Juntos no Chapitô Daniel Gonçalves, João Lourenço e Telma Fernandes. Em 2013 numa noite de Verão Madrugamos e nasceu esta mini criação. Espero que gostem tanto como nós.
Jacarés. Video filmado em Abril de 2017. Lançado agora em 2018. Desfrutem, foi um prazer trabalhar com os Jacarés.
This was an unique life opportunity to be photograph by the amazing photographer Fernando Matoso. The first picture is from Winchester Festival, the other ones are pure luck of being photograph by Fernando Matoso in a very special place. Place where we make very cultural and artistic events on a Pub that we squatted with our London community E3
Esta foi uma oportunidade única na vida de ser fotografado pelo grande fotógrafo Fernando Matoso. A primeira foto é de uma actuação para o Festival de Winchester, as restantes são pura sorte, ser fotografado por Fernando Matoso num local muito especial. Local onde fizemos imensos eventos artísticos num Bar ocupado pela nossa Comunidade Londrina E3
This Creation was photograph in the some epic Pub E3, by the some amazing Photographer Fernando Matoso, The creation was created with a very special friend Francesca Martello and it's based in Act without Words of Samuel Beckett. This two characters the man with no head and the other is his head. The headless man was given a second chance of coming to earth again but to learn how to behave better and be nicer to people he was been given a women's head, very funny show
Esta criação foi fotografada no mesmo épico bar E3, pelo mesmo fantástico fotógrafo Fernando Matoso. O trabalho foi criado com uma amiga muito especial, Francesca Martello, e é baseada no Act without Words (Acto sem Palavras), de Samuel Beckett. Os dois personagens, um o Homem sem cabeça e o outro, a sua cabeça. Ao homem sem cabeça foi-lhe concedida uma segunda oportunidade de voltar a terra, mas para que aprendesse a ser mais simpático com as pessoas foi-lhe dada desta vez a cabeça de uma mulher. Uma história muito engraçada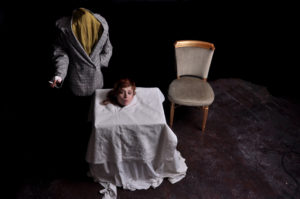 Very crazy project with some of my best Mates, Hugo Maciel, Sam Hague and Saskia Evans, we went to an old Asylum and come out something like this
Um Projecto muito doido com alguns dos meus melhores amigos, Hugo Maciel, Sam Hague e Saskia Evans. Fomos a um antigo Hospício e o resultado foi este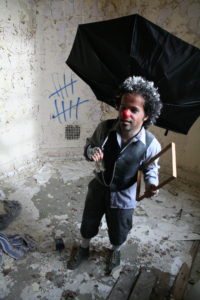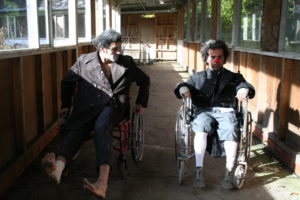 Photoshoot with Annie Chapman, She created this Huge Chair and Invite me to Pose on it. This Happen in London for Her Graduation Project, A very Interesting Chair
Sessão fotográfica com Annie Chapman, que criou esta cadeira e convidou-me para pousar nela. Isto aconteceu em Londres e foi parte do projecto final da sua Graduação
This Pictures are from a photoshoot with the amazing photographer Yuri Pirondi, again the character Hanged Man In the Ruff, again of our Epic Pub E3 in London In a very London day
Estas Fotografias são de uma sessão fotográfica, com o fantástico fotógrafo Yuri Pirondi, novamente o Personagem Hanged Man (enforcado), outra vez no nosso épico Bar E3 em Londres, num dia muito Londrino
This is one of my creations based in Samuel Beckett Act with out words and I develop a carachter with no Head I called Him Headless man
Esta é uma das minhas criações, baseada em Act without Words, de Samuel Beckett, em que desenvolvi um personagem sem cabeça, a que chamei Headless Man (Homem sem Cabeça)
My early years of performing Starts with my First real Character the Hanged Man. Photographies by the Great José Cunquero in London town
Os meus primeiros anos de actuação começaram com o meu primeiro personagem, chamado Hanged Man ( Enforcado). Fotografias captadas pelo Grande José Cunquero, em Londres